With the beginning of the reality awards season, Yahoo! has announced the dates for the 3rd Searchlight Awards. This time the award ceremony has been scheduled to take place on February 12 in New York City. This is a great event that showcases the relationship between search and both online and offline media.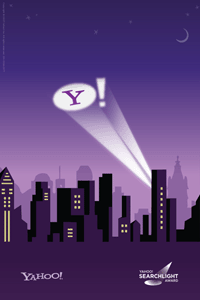 As the official blog reports, "You'll get to hear the insights and strategies behind four of the best search marketing campaigns from 2007." The award function will be addressed by Rob Norman, CEO of Group M Interaction. At the end of the season, only one winner will be crowned the 2008 Searchlight Award winner. Last year's winners include Avenue A/Razorfish and RPA.
For this year, the panelists include :
Abbey Klaassen – Digital Editor, Advertising Age
Kevin Ryan – Global Content Director, Search Engine Strategies
Greg Sterling – Founding Principal, Sterling Market Intelligence
Brian Morrissey – Senior Reporter, Adweek
For users with an outstanding Yahoo! Search Marketing campaign, this is a golden chance for them to come in the limelight and win an award at the Yahoo!Searchlight Awards. To read the official blog, click here.