Yahoo! Appears to have been on a lookout to enhance its Search Marketing interface to make it more competitive and high on utility. Sometime last year it tweaked with the help page of Yahoo! Search Marketing, see: Yahoo! Search Marketing Help Gets A Makeover. Today, it has launched new functionalities in three areas, namely keyword suggestions, excluded word limits, campaign tune-up alert and the ad optimization feature. Additionally, the "Sign-in Seal" has been enabled for your Yahoo! Search Marketing login page to keep "phishers" at bay.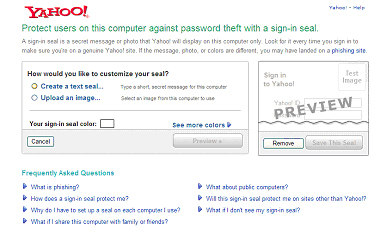 Keyword Generation: You now have three options to select from when you click "Add Keywords" on an Ad Group details page:
"Quick Add," which enables you to easily type in keywords when you already know exactly which ones you want to add.
"Choose from List," where the system makes keyword suggestions that are related to current ads and keywords in the ad group – you then just check the boxes next to the ones you want to add.
"Research Keywords," which continues to offer you the ability to enter words or phrases that describe the products or services offered by your website; then the system will offer keyword suggestions. This page also enables you to enter your site's URL;the system would then "crawl" the page and offer keyword suggestions.
The new keyword generation tools can simply provide you with more suggestions for keywords that are relevant to your business. This feature is expected to save you time and consequently increase the amount of traffic generated by your campaigns.
Excluded Word Increase: Prior to January 2008, Yahoo! Search Marketing permitted a maximum of 50 excluded words at both the account and ad group levels. Now, owing to an increased advertiser demand, the excluded word limit has been hiked to 250 at both the account and ad group levels.
It is hoped that this increase would help the users to make the traffic you receive using the Advanced match type more relevant.
Campaign Tune-Up Alert: (This feature is limited to the U.S. Only!), and it entails.
If you request a campaign tune-up, the system will now provide you with an alert on your dashboard when the tune-up proposal is available for viewing.
If you accept the proposal, the systems will show a dashboard alert when the updates (suggested bids, etc.) have been applied to your campaign.
In the unlikely event that an error occurs in the completion of your campaign tune-up, that will be communicated via an alert on the dashboard page.
This new feature is supposed to provide better information regarding the status of your campaign tune-up.
Ad Optimization with Guidelines: The ad optimization feature in your account automatically rotates the display of different Sponsored Search ads in your ad groups. Based on the data it acquired, the system would then more frequently display ads that were shown to have a higher click-through rate.
With this change, the ad optimization feature can use guidelines other than click-through rate or total impressions to make optimization decisions. For instance, you might choose to optimize for conversions; i.e., have the system more frequently show ads that more effectively deliver conversions.
The change is expected to enable a greater control over ad optimization, in that you can choose from one of several guidelines to determine your highest-performing ads in a campaign or ad group.