Recently, there have been certain changes in the verification system in Webmaster Tools. One of the side effects of the change is that the blogs hosted on Blogger that haven't been verified yet will now have to use meta tag verification method instead of the "one-click" integrated from the Blogger dashboard. The reason behind this is the "Webmaster Tools" auto-verification link from Blogger dashboard is not working and it will be removed soon. Although, the webmaster team is working to adopt an automated verification approach for the Blogger hosted blogs in future, but till that time you have to follow the below given steps to verify Blogger blog:
In Webmaster Tools
The very first step is to click the "Add a site" button on the Webmaster Tools Home Page.
Enter the URL of the blog and click on the "continue" button to navigate to the Manage Verification page.
You will now have to select the "Meta tag" verification method and then copy the meta tag.
In Blogger
Go to your blog and sign in.
Click the "Layout" link given on the blogger dashboard for the blog you are verifying.
Click "Edit HTML" link under "Layout" tab. This will enable you to edit the HTML for the blog's template.
You will again have to paste the meta tag that was copied in the webmaster tools process immediately after the element within template HTML. Now, click on the "SAVE TEMPLATE" button.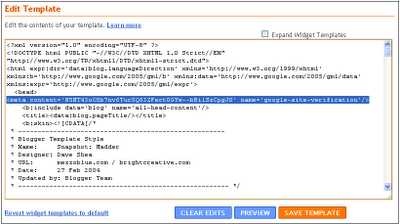 In Webmaster Tools
Confirm the "Meta tag" is selected on the Manage Verification page and click the "Verify" button.
Your blog is now verified and you can start using the Webmaster Tools!