Google SERPs (Search Engine Result Pages) are turning up Google AdWord advertisements with what looks like parameters that are used to evaluate quality scores. According to Search Engine Land, the parameter figures of 'Pscore', 'mCPC' and 'Thresh' are clearly visible in both the sidebar and the shaded results. These changes developments are being seen especially ingoogle.de (German Top Level Domains)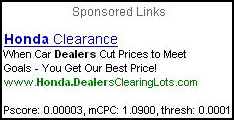 'mCPC' is widely being accepted as 'Minimum Cost-Per-Click', however the other two parameters 'Pscore' and 'Thresh' have been debatable topics for some time now. There has been an explanation provided for Pscore by the European Bio-informatics Institute, which comes really close to explain Pscore. "P-score represents minus logarithm of the P-value. P-value measures the probability of achieving the same or better quality of match at a chance, i.e. at random picking the structures from the database. "Quality of match" is a complex characteristics, which accounts for RMSD, number of aligned residues Nalgn, number of gaps Ngaps, number of matched Secondary Structure Elements and the SSE match score. The higher P-score (the lower P-value), the more surprising, or statistically significant, is the match."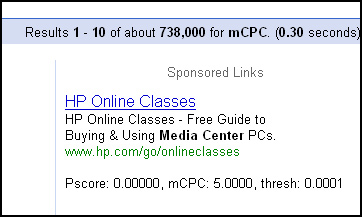 The last remaining parameter 'Thresh' appears more like a 'threshold', still it is just a speculation. However, this is a variably interesting development, that is worth being noted and followed.
Did you enjoy this article?
Get FREE Updates
Get SEO, Social media and digital marketing updates straight to your inbox.