David Szetela of Search Engine Watch in his blog "Get More Attention with Legal PPC Ad Symbols" is talking about including symbols in ad text. According to Google, there are certain guidelines that need to be follow while including symbols. Here are the guidelines:
Use standard punctuation and symbols.
Don't use repeated, unnecessary, or gimmicky punctuation or symbols.
Your title may not contain an exclamation point.
Your entire ad text may only contain one exclamation point in total.
The use of symbols, numbers, and letters must adhere to the true meaning of the symbol.
So David tried inserting some crazy symbols in his experiments. Here is the screenshot of one such experiment (With Bullet Points)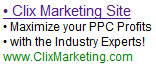 He thinks that "bullets can make an ad really stand out, and it's very likely that CTR will be higher for such ads."
Here is the other experiment:

(Like the Number symbol that looks like the letters "No" )
He further says that:
You can see where all this is going — and I expect to see some pretty zany ads from now on. A few caveats:
The easiest way I've found to discover and create the full range of available symbols is to fire up Microsoft Word and use the "Insert Symbols" function. Then copy and paste a symbol from the word document to your ad.
Not all symbols from all fonts will work. I've experimented with the Courier font, and a few — like the smiley face symbol – were outright rejected by AdWords.
It's likely that human editors will eventually reject the ad. But "eventually" could be a looong time.