AdMax has recently launched a SEO Toolbar, that comprises of the popular SEO tools, put together on a single browser plugin. It also features mobile keyword rankings and mobile link building tools. It is the first FireFox addon that addresses mobile SEO as well.

The first most prominent section of the toolbar is the page speed:
Load time
Page size
Number of requests

Current Page External Metrics
The next toolbar section lists SEO's favorite numbers:
Page Google Toolbar PageRank
Yahoo! SiteExplorer "Links to domain" number
The number of Dmoz listings
Yahoo! SiteExplorer "Links to page" number
Yahoo! SiteExplorer "Indexed Pages" number
Domain page

Toolbar "Actions" Section
This section allows to perform some actions that could speed up the working process:
The easyComment button can be used to create multiple profiles to let the tool pre-fill the name, email and URL
it can be used for highlighting on-page no-follow attribute
Also, can be used to view page source
It allows to get the page info
It is helps to find out the keyword position on Google
It performs a keyword research very quickly
One has the option of accessing the "link building tool" from here.

Link Building Tool
The link building tool has three sections:>
Backlink Builder – This tool takes advantage of the Google's link building queries, which when combined with the base term, allows one to search for various link building opportunities.
Directory submission – This helps to search for relevant directories.
Blog Commenting – This section offers access to "do-follow" blog database.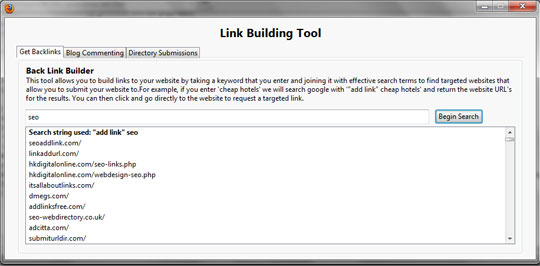 Though the tool is in its beta phase, but is worth a shot.