Now, apart from your own progress and performance, you can measure your competitor's performance too with the help of Google AdWords new tool called, 'Analyze Competition'.
So, the advertisers can calculate the range of the competition over the past two weeks with the help of this service. It is expected, that the performance result of various advertisers will certainly improve, as after knowing their competitor's state they could make the efficient changes. It is an inspiration generating service, where one advertiser gets motivation to enhance the business by selecting those particular things like keyword choice that makes the competitor a leader ahead them. So peeping on your competitors data will give you the opportunity to modify our content and also to enrich your business online.
Now lets have a look over the dashboard. 'Analyze Competition' would be in the opportunities tab, like in the picture of the dashboard shown below: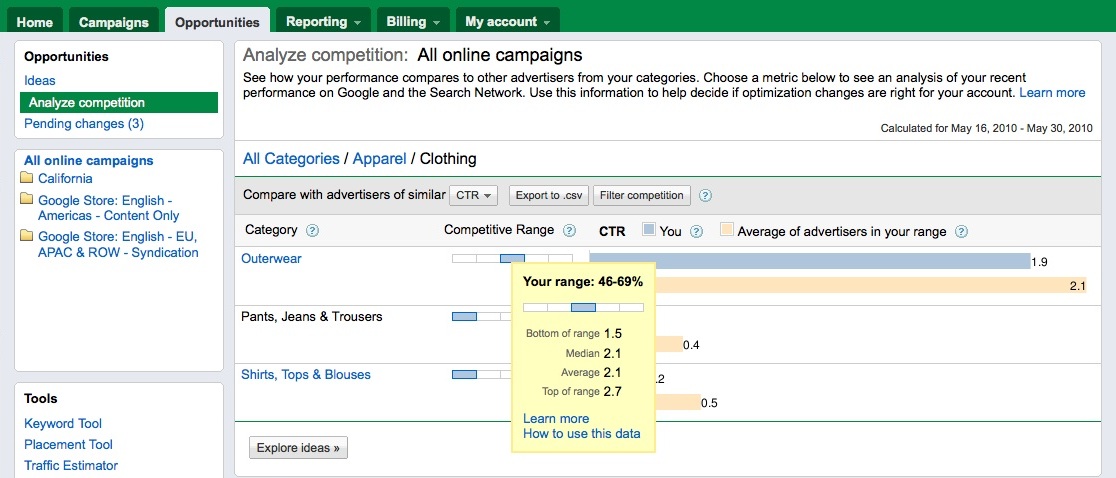 With 'Analyze Completion', advertisers will learn about, "the exact size of your competitive range, the mean and median performance levels for this range, as well as data on the absolute top and bottom performers," AdWords said in a
Some people are confusing this service with a platter full of sweets, where they will be able to get all the information related to the competitor. But, it's not like this, as Google cannot violet their privacy policy, so there would be an anonymous data in the form of bar graphs. Another point that has to be noted down, is that, as of now this service is only available to a small number of advertisers, although the company has promised to expand it in the near future.
The link below will explain the process in a more interactive and an interesting manner.
http://www.youtube.com/watch?v=VjpVRyf-FaM&feature=player_embedded#!