The whole world is getting trapped in the web of iPhone and G1 mania! The advertisers are also not left behind as they are looking this gold mine as a very good opportunity to attract target audience. That is why search advertisers have opted to select this medium in their latest strategy to target the rapidly growing number of searchers on the go.
Google's mobile team has just come out with an entirely new advertising campaign that allows AdWords advertisers to target iPhone and G1 mobile phone users.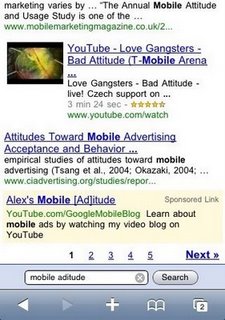 The number of mobile devices that offer full web browsers is growing exponentially, making it much easier for businesses to tap into the mobile market, which Google obviously wants to dominate.
Whereas in the past, advertisers had to set up mobile ads and mobile landing pages (for best results), the new option allows advertisers to use existing text ads and destination pages on these new mobile devices.
"The ads will have many of the same benefits as our standard mobile ads, such as the delivery of mobile-specific calls-to-action and reaching mobile users that are searching with their phones more than ever — especially during the holiday season."
"To target ads for G1 and iPhone, go to your campaign settings tab in your AdWords account. Then for the "Device Platform" option under "Networks and Bidding," select "iPhones and other mobile devices with full internet browsers." As additional devices that use full browsers enter the market, your ads will show on those phones, too. You can visit the AdWords Help Center for more detailed instructions and watch my video below for a quick demo. If you currently have an AdWords campaign running, by default your campaign will show ads on desktop and laptop computers, as well as iPhone and G1."
You can click on the following video to have a look at the summary of the new mobile program.
by Alexandra Kenin, from Google's Product Marketing Manager for the Mobile Ads team