Google was just as happy as ever to announce the launch of its two related new Google Analytics features: a beta version of industry benchmarking and a data-sharing settings page.
Both the features are meant to allow users more choice and better control over their data. Though these features had begun appearing in customer accounts on March 5 itself, the benchmarking reports could take a couple weeks to show data.
Industry benchmarking: Have you ever thought about how your site is doing compared to your industry as a whole? Well, this feature enables customers to see how their site data compares to sites in any available industry vertical. Thereby providing actionable insights by showing context for users to understand how their site is doing. An example would be that if you had a travel website and you got a spike in traffic on Mondays, you might surely want to know whether other travel sites got that same spike on Mondays or not?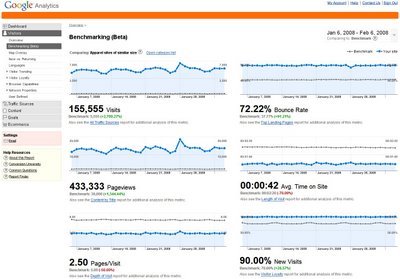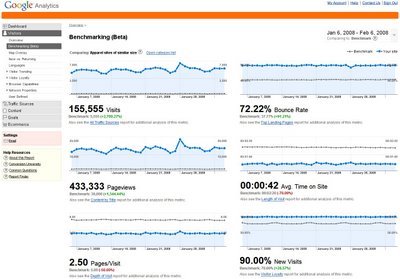 Moreover, you can also compare your site against an industry vertical different than your own. For instance, you saw your industry's traffic dip at certain times of the year while another industry's traffic increased. Then based on that information, you might think about exploring cross promotional opportunities to drive traffic back and forth.
Data Sharing Settings Page: In order to make the industry benchmarking feature work, Google Analytics has brought out a new data-sharing feature.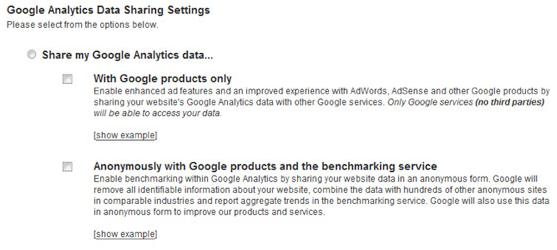 As is evident that there are two options for users to share their data. First is with Google products only and second for the Industry benchmarking service. By default, your data will not be shared.
The data shared with other Google services would allow Google to provide users with additional advanced features as they become available. For instance many users had requested Google to integrate Conversion Optimizer (which is currently only available to AdWords Conversion Tracking users) into Google Analytics. Furthermore, only if you share your data, you would be able to access the industry benchmarking data. Moreover, it's a fact that benchmarking would show better results only when people opt to share their data into the system.
Interestingly enough, there's a third option suggested by Michael Arrington. This one is to have a flat-out option for people to share "some or all of their Analytics data publicly, without restriction and without anonymitiy."
Reportedly, there are many start ups who send in their data to be published to counter the under-counting in Comscore, Alexa and other services. These startups would be too happy to get their data published, so that their readers will understand exactly how well they're doing.
So far so good, but when it comes to sharing data with services such as these and privacy concerns automatically pop up. More so when you have a business of your own, you might fear that this new feature would allow your competitors access to your data.
Well, it seems that Google's considered these concerns and hence through a new data-sharing settings page the customers can choose whether to opt in or opt out of sharing their Analytics data. Furthermore, the individual data won't be shared with competitors, rather the data is bucketed data into industry verticals and then anonymized, aggregated and then shown to anyone. Once you opt in, it may take a couple weeks for the reports to populate.
While Google has many free services, Google Analytics is one of the most intriguing as it's not only a powerful web analytics application, but also that Google keeps adding new features to it. Industry benchmarking being the latest. Although it might not be as powerful as Hitwise or comScore, still it should let you have a lot of insight about the trends in the industry.
So now all that the users have to do is to weigh-up the value of getting this data from Google against the privacy concerns that they may have to access the same.