OAKLAND, Calif., October 6, 2009 – Ask, a leading search engine and operating business of IAC (Nasdaq: IACI), today announced the launch of Ask Deals, its proprietary database of more than 1 million high-quality savings offers from national and local merchants across hundreds of product categories.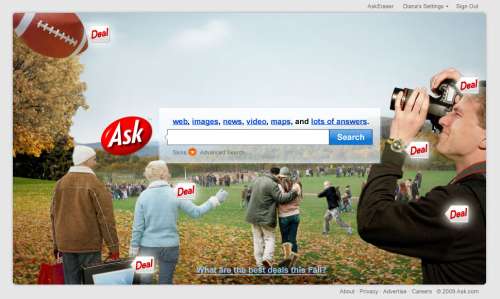 Ask Deals scours the Web for all the deals available online – from cheap Halloween costumes to restaurant coupons – and organizes the best money-saving offers front and center on the results page, eliminating the need for consumers to search multiple coupon sites or search engine links to find their answer. The Ask Deals database is continuously refreshed and editorially refined, giving consumers the most up-to-date and highest-quality savings offers every time they search on Ask.
Ask Deals is powered by Ask's proprietary Deal Detector™ technology, which uses Ask's core search technology to scan millions of online promotions, store circulars, and nearly 40 top coupon sites. Ask's Deal Detector also searches user-generated content on community forums, message boards, and blogs to find popular deals consumers are sharing with each other. Ask surfaces high-quality deals on the results page by using its search technology to filter out low-value, invalid, and expired offers.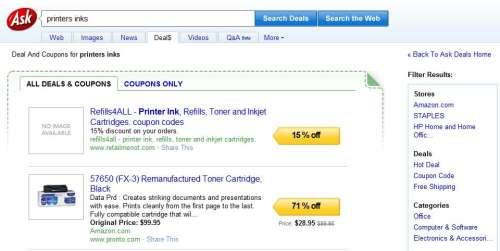 "In a tough economy and with the holidays approaching, Ask Deals arrives at just the right time for consumers as a one-stop shop for value. It's the answer our users are looking for, too, since searches for coupons on Ask.com have shot up almost 50 percent in 2009," said Scott Garell, President, Ask Networks. "Ask Deals saves consumers time and money through relevant, high-quality savings built right into our unique Ask search results page. By introducing our 'search stimulus package' with Ask Deals, we aim to lift a burden for consumers and make a meaningful impact in their lives."
Unique features of Ask Deals:
The Web's best deals – in one place: Ask Deals aggregates more than 1 million high-quality savings offers on the Web for hundreds of product categories and rolls them into one, easy-to-read display.
Easy-to-find deals, front-and-center: Ask.com saves users time by blending deals into the search results page, making them easy to find via "Smart Answers" with yellow savings arrows at the top of the page, as well as green money-saving icons within the search results.
Money-saving related searches. Consumers can easily find additional great discounts by clicking on "money saving searches," built with Ask.com's award-winning Zoom Related Search™, which appears at the top of the right side of the search results page.
Easy sharing. Consumers can share coupons and deals with friends and family through email and popular social networking sites like Facebook, Twitter and Digg.
Deal of the Day. When consumers choose an Ask Deals homepage skin, they'll get daily "can't miss" savings offers, chosen by the Ask Deals editorial team, streamed right onto their Ask.com homepage. Users can also sign-up for "Deal of the Day" emails to receive new and timely deals every day.
For additional insights into Ask Deals, visit today's blog post on the topic at http://blog.ask.com/.
*comScore Media Metrix, April 2009
About Ask.com
Ask.com is an operating business of IAC (Nasdaq: IACI). The Ask Network of sites is the 7th largest Internet property in the world, with 179 million worldwide unique monthly users, according to August 2009 comScore data. Ask.com syndicates its search technology and advertising solutions to a network of affiliate partners.
Media Contacts
Nicholas Graham, Ask.com,
Vice President/Spokesperson,
Ask.com nicholas.graham[at]ask.com
571-291-2967
Jennifer Hallett, Ask.com
Jennifer.hallett[at]ask.com
510-985-7640