Search engine industry is awesomely competitive, as all search engines, big an small are always on a roll to enhance an average user's experience. Of late Ask has turned out quite a few fresh tweaks to its services. During late last year it was the Ask Eraser, then there was the Voice Activated Mobile Directions Feature!, Customized Ask.Com Homepage and the recently launched BigNews, all of these efforts did translate into success for the company.
Now there's another tweak to the well-known feature from Ask's search, the "Binoculars," reports its official blog. The binoculars come in handy when you're caught up in a loop of back-and-forth clicking between the search result list and the linked result pages looking for that perfect site. They give you an opportunity to look into those sites before you open them and it can saves clicks and time.
The binoculars over a period have added bigger previews, increased coverage and dramatically shortened update cycles in addition to some extra information about the site you're previewing, site download time, whether the site is Flash-based or not, and pop-ups.
Now as consequence of receiving requests from users for more information viz. the popularity of a site is, its influence and trustworthiness etc, feeds from Compete.com have been arranged for to enhance the system.
For instance if you searched for say "my favorite ski resort," and if you roll over the Binocular icon of the top result, you see the familiar preview:
At the lower portion of the preview, the combined size of all elements on the page and how long it will take to download it on a still-common 56K modem connection are viewable. And of course whether the site requires the Flash plugin or whether it serves pop-ups:

While this is all old stuff the real meat surfaces when you look at the top and notice the tabs. When you click on "Statistics" here's what you get: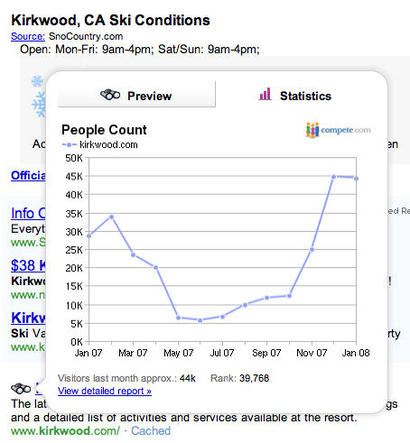 You get to see the visitor trend for the site. At the bottom, you can see the most recent estimated visitors count in numbers (in this case its about 44,000), and the site's rank as well. Moreover, the rank of the site can also be seen (in this example Kirkwood.com was the 39,768th most-visited site on the web in Jan '08 according to Compete). Furthermore, you can know even more, such as yearly trends or pageviews per visit, for that you'd need to click on "View detailed report" and it'll give you the full profile on Compete.com.
While the Binoculars bubble scales with the size of your browser window, in cas you find that the graph or preview is too small, you could try enlarging your browser.