It seems Ask.com cannot have enough and be satisfied. The site has been remodeled and redesigned several times within past 4-5 years. Following Microsoft Live search suit ask.com has also started to add live hot spots as part of advertisement stint. From changing its logo to name to skins now Ask.com is using new advertising strategy. Once known as Ask Jeeves it has evolved to use the shorter version ask. Moreover Ask.com had recently restructured its homepage to come up with a clean fresh look as shown below.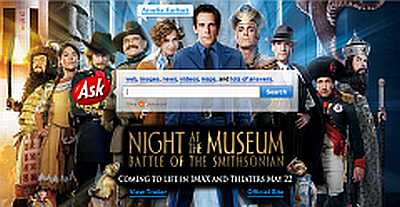 This fresh look comes with peel me option to change the 'skin'. It had already converted itself from a question answer generating engine to a full time web search engine. As of now, as part of the advertising campaign, ask.com was seen to put the banner of an upcoming Hollywood film recently. As the mouse scrolled over the the characters, the names showed automatically. Interestingly but the mouse over names will also guide you to more refined ask.com results. This is a very new concept to be adopted by a search engine. While on one hand Microsoft just added large images and Google updated its logo from time to time. Putting up the whole banner on the homepage is a bold move. Some critics though labeled it as a desperate move. But needless to say it is attracting more attention and traffic.
Did you enjoy this article?
Get FREE Updates
Get SEO, Social media and digital marketing updates straight to your inbox.