The comScore data released today shows that Ask.com is making great leaps in the search queries. The data analyses further tell that Ask has seen more growth than Google, MSN, or Yahoo in the last month (January 2008) than compared to the prior month's volume.
Though still we have to agree that Ask is a small in the big search pond dominated primarily by Google sites with 7.7 billion searches, followed at the loose ends by Yahoo!, Microsoft and AOL. Whereas Ask gets only under 500 million searches and gets only 4% of the market. However, inspite of getting a small piece of search market share, it is considered a leader in universal search. Now further, Ask is getting deeper into social media integration with their recently launched social news aggregation site BigNews.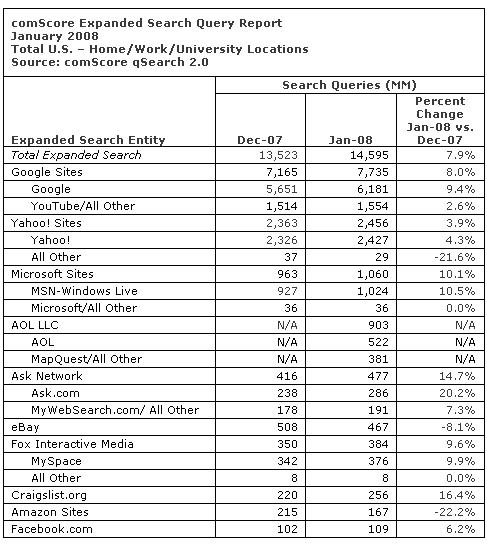 Ask differs from the other search engines because it has fully rolled-out universal search. Although Google has implemented universal search to some extent, Ask is still the first search engine to leap head-first into these complex waters. Since universal search is slowly going to be rolled-out across Google, MSN and Yahoo, Ask is a great place to prepare for the competitive world of universal search.
But for its growth can we assume the hiring of the Google executive, Cesar Mascaraque as the morale booster?