Ask has just launched a news search service called BigNews, "Ask BigNews is a search and browse service that helps you find and track the most important and most talked about stories in the news." The service is similar to Google News or Yahoo! News services.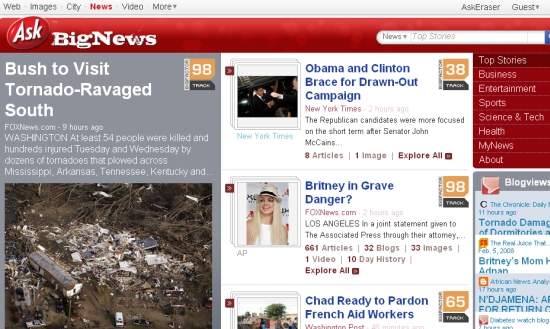 Ask's BigNews makes use of the 'BigFactor' to find the best stories to follow. The BigFactor has four key dimensions:
Breaking: This factor accounts for the timeliness and freshness of a story, giving more weight to breaking news.
Impact: This factor tracks a story's impact across the Web, monitoring mentions in articles, multimedia and blogs.
Media: This factor identifies the number of quality images and videos associated with stories, providing rich insight.
Discussion: In a sense, the Web is like one big water cooler. This factor weighs the level of those discussions and which ones are making the most noise.
There's a "Blogviews" section which highlights the latest posts from selected blogs.
And it provides category clusters in addition to letting you browse by top Diggs and no Diggs. However, the confluence with Digg is being seen as Digg's loss of focus, moreover, it's been questioned how users would see an incorporation of Digg tools with BigNews?
BigNews, at present utilizes over 10,000 news sources, but there doesn't seem to be a mention about how to get a news site appended on BigNews.
The personalization feature "MyNews" helps users to track the story on the Ask BigNews site (to use the feature you need to login to the site), additionally you can track a story via your favorite RSS reader (Bloglines, etc). More and expanded personalization features can be expected in the future releases though.
While there are many news portals on the web at present, what's unique to BigNews?
Ask is of the view, that BigNews gives the user a multi-layer perspective of the news through the "unique presentation of our search results." And that it lets you quickly check the latest headlines or drill down into what various sources say about the stories. By using "Source Filters" you can see how different sources "spin" the news. Further, BigNews in addition to relying upon the major news agencies, considers various types of sources to present a complete picture.