A couple of days back IncrediMail got a shock of its life when Google had severed the advertising service relationship with it, see: Doomsday For IncrediMail After Being Dumped By Google from AdSense Program!. IncrediMail is an Internet content and media company which provides email solutions and solutions for desktop wallpapers and screensavers.
Now it's some good news for them and their stakeholders as the advertising service relationship has been reinstated, announced Incredimail.
The news also seems to have had an impact on IncrediMail's market performance.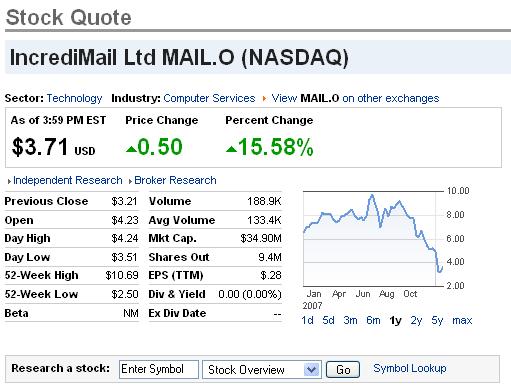 Picture Credits: Reuters
"We are pleased to be able to resolve this set-back so quickly and in such a positive way,… Google's co-operation in re-instating our account, together with the feedback we've received from other search engine companies, makes us more optimistic than ever regarding the potential of the search business to drive our results, validating our long-term growth strategies." said Yaron Adler, IncrediMail's CEO.
Although it's a welcome homecoming for Incredimail but with a stern warning for them, to not repeat whatever lead to all this. As Google might not give them a second chance.