How do you cope with doing search engine optimization for a company with tens of divisions, hundreds of products, thousands of web pages and seemingly no way to bring order to the chaos? Where do you begin with the SEO process? This panel looks at problems and solutions unique to those running big sites or from big companies and brands.
Moderator: Kevin Ryan, Vice President, Global Content Director, Search Engine Strategies and Search Engine Watch.
Speakers: Bill Hunt, CEO, Global Strategies International, Amanda Evans, Senior Search Consultant, WebMama.com, Inc. Olivier Lemaignen, Group Manager, Global Search Marketing, Intuit, Randy Peterson, Search Marketing Innovation Manager, Procter and Gamble, Carol Kruse, Vice President, Global Interactive Marketing, The Coca-Cola Company.
The session started off with concerns all the panelist had their favorite one, and why shouldn't they have'em as search marketing on a large scale and for global giants entails a uniques share of issues.
Carol takes up the case of Coke, which is a global brand and has to operate in a globalized scenarion. Next up is Oliver he stressed the clients need to be educated. The notion of integration of SEM's and SEO's to the structures of the company is put forward by Bill Hunt.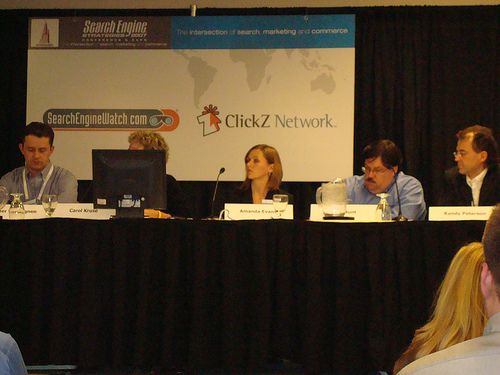 Bill talks about the integration of large-scale SEM's and SEO's to the structures of the company. He says that if you're the SEO and you're not gonna change a Fortune 500 overnight through website structure then you need to ensure you aren't slathering on the hot fudge.
Amanda Evans floated the idea of identifying specific site architecture problems and reparing the worst parts. She said that a site should only take place due to client's goals on the internet and not because of the Internet.
The panel had many thoughts about the problems pertaining to working with big organizations and further that and how search marketers can adapt to reach the end objectives. However the main ones they outlined were, uneducated individuals and a need to systematically provide instruction. Then there's a category of people who are kinda resistant and don't adapt to the changes flexibly. Similar to the resistant individuals are the information technology departments of the companies that aren't flexible and they say NO.
The panelists emphasized these concerns as they are being faced by the corporates, throughout the discussion they went one to offer advice which would take care of the issues. As far as the problem of uneducated individuals is concerned, then there should be efforts made to educate them, they can told about SEO/SEMs is, the mechanisms, and the point could be illustrated with case studies/results to have them with you. Internally the aces of search could be identified and used to educate the others. This way the same message comes from the agency as well as organization. Another thing is formal training, with this you could empower them, and it will help the program grow.
There would be times when the individuals just don't want to change, pretty frustrating indeed but there was plenty of advice that came from the panelists. The resistant individuals need to be educated and this could be effectively done with the help of case studies. Further if there are individual who are good at it could be effectively employed to train and educate the others. And formal training program that include would certainly help. They emphasize that the resistance is usually a function of the effort needed to change, so it becomes obvious that people would show greater resistance with increasing effort needed. The solution would be to implement the program in smaller manageable steps. Internal case studies could be generated by research to explain them that it is more of a necessity in the present competitive scenario, and if the position is to be held on to then it becomes imperative to change. The next step would be a one on one sessions to educate them.
Then there are the IT departments who say no, you could do it through a business case for an updates being asked of them like if the search engines can't crawl the site it would be impossible to get good ranks and further consequences. Then you could specify the technical requirements and put forward some easy ones so that they get confidence and can celebrate. It's a fact that the IT departments are usually overworked and this would serve as an appreciation. Fixes are important but they need to be prioritized like a fix which takes up more time but yields little is a bad choice.
PHOTO CREDITS: toprankonlinemarketing