Bing is preparing a new feature called Bing & Ping. This will be very useful for sharing search results through various places, like Facebook, Twitter and even email in couple of clicks. It is a typical feature that you see on almost any website. What impresses most about this is that Bing is appending the sharing icons (Twitter and Facebook) at the bottom of each of the search results.
It has been reported that the sharing icons will be in almost all of the Bing search results. The icons will be more useful especially in travel-related searches and other kind of stuff. With the help of these sharing icons, you will be able to share search results with anyone easily in your Twitter and Facebook accounts.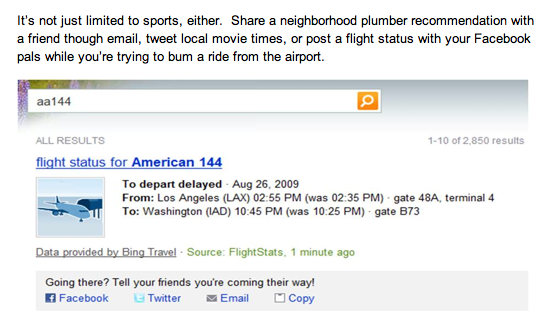 The Bing & Ping did not include Windows Live, it is a concern since Window Live also has an updating of status feature. But then everyone understands the fact that the best for Bing is to have the sharing feature for the users of Twitter and Facebook first. Bing will send out invites to the users interested to preview Bing & Ping.
If you want to watch out for the invites, become a fan of Bing's Facebook fan page.