After integrating Twitter to its search results, Microsoft is now collaborating with Wolfram Alpha for getting its computational algorithm technology into the search results of Bing.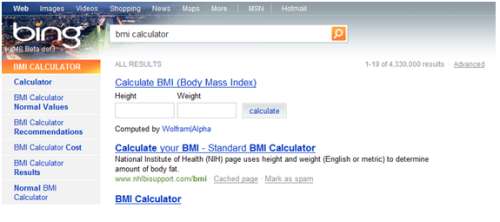 The Wolfram Alpha feature will be made available to the U.S-based Bing users within a few days. Initially the roll out will be limited to nutrition & fitness areas along with mathematical computational technology so that users are able to make informed decisions with their Bing search results.
The community search blog of Bing has given an example to illustrate how Wolfram Alpha together with Bing will interplay with each other after integration. Here's the link to the example.
Wolfram Alpha is known to be an innovative and powerful computational engine but it is still not known if this new integration will affect SERPs. As Bing is still looking for potential users, the new integration might turn out to be helpful.