In one of the latest reports by Hitwise for search engine share data, Bing showed significant growth almost every week.
Here's the screen capture of the report: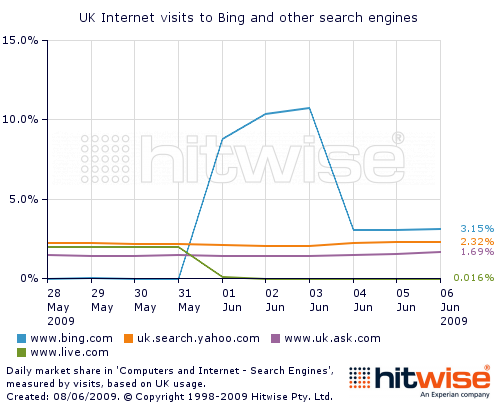 Now, the question arises is what exactly are people searching on Bing? The top search term in bing for the 4 weeks ending June 6, was 'facebook', which accounted for 3.94%. Even the search distribution data reveals that the top 100 individual search terms account for 20.1% of searches on Bing, but only 12.0% on Google UK.
In spite of the dominance of branded terms, Bing's top 100 has 5 generic terms. The following table lists some of the top industries which received traffic from Bing in the UK last week.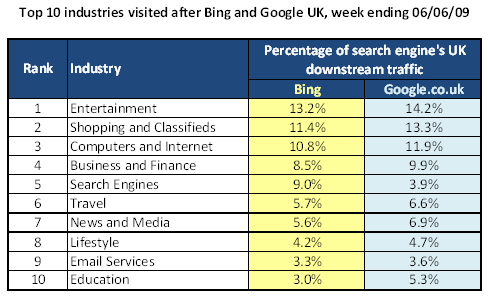 As you can see, the only major difference is related to the amount of traffic flow sent to other search engines. This number is much higher for Bing, which reveals the number of users that tried the search engine before returning to their usual choice. Last week, Google was the 3rd most popular website visited after Bing. If you take a look at the upstream data, you'll see that for most of Bing's traffic it relied on other Microsoft's properties such as 45.8% from MSN UK, 16.6% from Windows Live Mail (Hotmail).