Bing has launched its all new In-depth stock pages to do research about investments in US stocks and funds.
This new feature provides the user with all the information about the stock market and finance. Considering the recent downturn of the world economies, this new research information providing system is a great help. It might not predict trends or but goes a long way in getting all the data together in one place for those who are wary of compiling data.
In order to look for any information on the interested stocks and funds, all you need to do is just enter the ticker in the search box, the 'Instant Answer' would provide you with basic data about the particular firm while clicking on the 'Investor Data' tab would take you to the finance page on the Bing.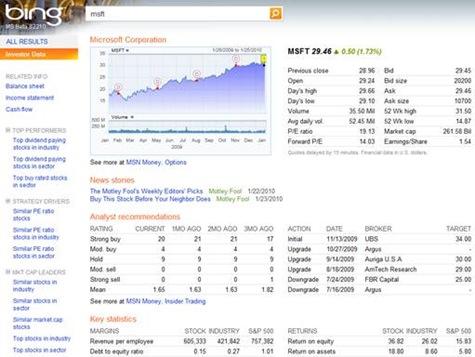 The finance page will further provide you with detailed information about the key finance metrics and summary of the main analyst covering the stock. You can also, easily navigate through the similar or other leading stocks of the same industry.
This initiative from the Bing is an insider to gather all information and tools to help you so that you make wise decisions for your money investments and profits in the unpredictable stock market.