Yahoo! Search Blog discusses about the new technology they've come up with. They say that making a blog involves collating pictures, links, maps, etc and that sometimes there's "the hassle of digging up that supporting content is the most painful part. So, to help bloggers address these pain points, we built Yahoo! Shortcuts for WordPress — a technology that sits in the background and finds and offers content to help build out your post in real-time."
According to them the shortcuts can be helpful by setting you free from finding additional content and integrating it, and that this would allow you to focus whole-heartedly on the writing part.
You can download the the Yahoo! Shortcuts plug-in here
It gets into action as you type, and "it will begin to find terms in your post such as company names and tickers, locations, news and product names — and, with no additional effort, integrates a roll-over or preview badge into your post." They cite an examples ""Crater Lake" brings up a map of Crater Lake to answer the "where the heck is that" question and "Citigroup" calls up a dynamic finance chart of the company's stock performance. Similarly "…The product Shortcut (e.g. Nintendo Wii) displays the latest product reviews and price comparisons from retailers across the web via Yahoo! Shopping."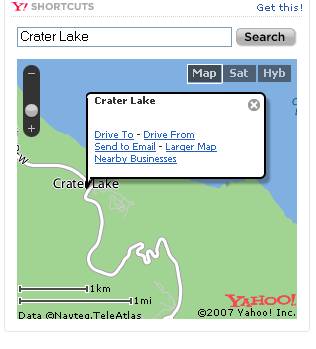 They say further that "Now, under Creative Commons licensing, we'll recommend Flickr images based on the key themes of your post, with proper attribution to the original author of the picture included." A complete list of shortcuts has been made available by them here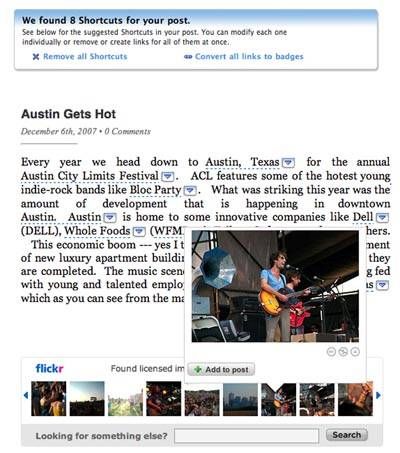 Photo Credits: Yahoo!
They say that they've made these capabilities to give the publisher control, it's upto the publisher to select or reject the recommended content. Here's a link to the tutorial or can even learn about it at Yodel Anecdotal There's also an offer from them, that the first 500 bloggers to install and use the plug-in will get some cool t-shirts."
Blog Boosters From Yahoo!: Shortcuts for WordPress

,