Mobile ads have now been made more potential in terms of reaching to the customers. Google announced that now mobile phone users will automatically get click-to-call phone numbers of the advertisers or the companies to directly contact them for details of their services.
This feature will be available only on the 'high end' user phones with full HTML browsers. To bring it into practice, Google already sent an email notification to its AdWords advertisers notifying them about their location specific numbers to be displayed along with their website URL in the mobile ads.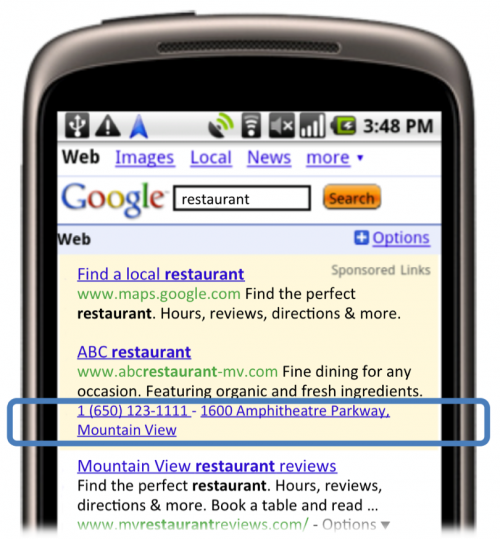 The new Google feature will allow the users to call the advertisers directly if they don't wish to visit their website on mobile phone browser. This is being considered as a more relevant feature for the mobile browsers as it is related to the 'make a call' technology of the mobile phones specific to user location. The users will be charged for every call they make with similar charges that were set for accessing the advertiser's website on every mobile click.
In order to set up this feature Google has guided its advertisers to follow just to simple steps:
● They need to set up their location extensions and add their business number to be displayed in their mobile ads. Customers will click on that number to call the advertisers and avail their service.
● Then advertisers should select 'show your ads' in their mobile ad campaigns to be displayed on the iPhone and other high end mobile handsets which carry full HTML browsers.
The advertisers can easily track the number of phone calls made to their businesses by logging into their Google AdWords account and clicking on the Campaign Summary tab.
Similarly to opt out, the advertisers can select 'remove the phone number' from their location extensions in Google AdWords. This will automatically stop displaying their phone numbers in their mobile ads to the browser users.
Did you enjoy this article?
Get FREE Updates
Get SEO, Social media and digital marketing updates straight to your inbox.