We already have some popular user generated knowledge storehouses such as Wikipedia, Yahoo Answers, About.com, etc but now it looks as if all of them have competition!
Here's what you got, The Official Google Blog reports about testing their new tool "Knol." They say "Earlier this week, we started inviting a selected group of people to try a new, free tool that we are calling "knol", which stands for a unit of knowledge.
The reason behind the idea they say is that "The web contains an enormous amount of information, and Google has helped to make that information more easily accessible by providing pretty good search facilities. But not everything is written nor is everything well organized to make it easily discoverable….Our goal is to encourage people who know a particular subject to write an authoritative article about it."
So what's different about knol after all? A "…knol is just a web page; we use the word "knol" as the name of the project and as an instance of an article interchangeably. It is well-organized, nicely presented, and has a distinct look and feel, but it is still just a web page. Google will provide easy-to-use tools for writing, editing, and so on, and it will provide free hosting of the content. Writers only need to write; we'll do the rest."
And what's Jimmy Wales' (the founder of Wikipedia) take on it, "To me, the system sounds a lot more like Yahoo Answers than what we do. It doesn't strike me as particularly similar to what we're doing at all."
Google Blog says the key idea "behind the knol project is to highlight authors. Books have authors' names right on the cover, news articles have bylines, scientific articles always have authors." Further they remark that, if the users knew about the authors, then they would be able to make better us of the content.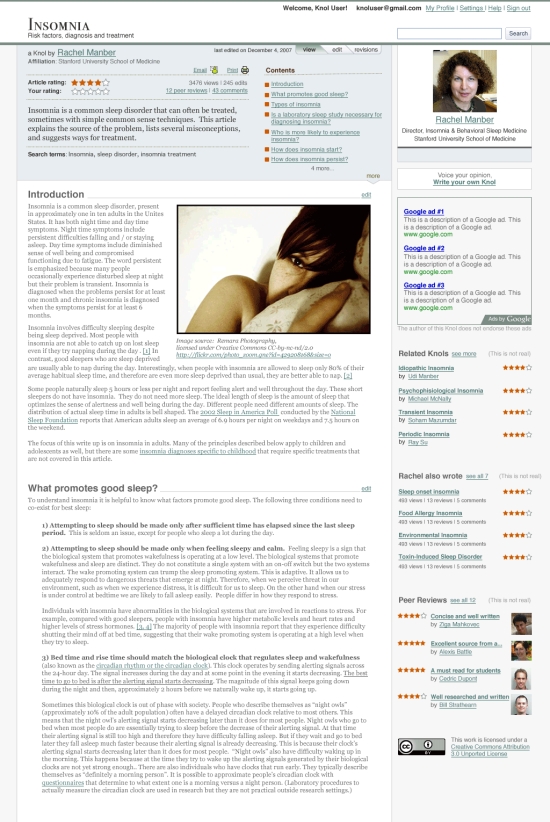 Screenshot Credits: Google Inc
The Knoll is meant to cover all kinds of knowledge "…,from scientific concepts, to medical information, from geographical and historical, to entertainment, from product information, to how-to-fix-it." But They caution that "Google will not serve as an editor in any way, and will not bless any content. All editorial responsibilities and control will rest with the authors."
Further, "the content of knol won't be exclusive "Google… will make that content available to any other search engine."
And what's it about Knol that excites our Wikipedia man Wales the most. "We're really excited because that's a really positive development for free culture, If it's true." alluding to the Creative Commons Attribution 3.0 Unported license on the screenshot.
As the users get in the groove of creating Knoll pages, there'd soon be many competing knolls on the same topic. The Google blog says that anyone would be able to write a review about a knol and rate it. There'd also be community tools available where "People will be able to submit comments, questions, edits, additional content, and so on."
Does Wales agree with the "quality of content" part of Knoll. Here's what he says "They are not going to allow collaboration and aren't going to go for Wikipedia's neutral style." So does it mean that Knoll articles would be more biased. And if the ownership of a knoll article belongs to its author, would other users be able to edit it, the way it is at Wikipedia "which anyone can edit?"
At Knol the authors would also be able make money out of their articles, "If an author chooses to include ads, Google will provide the author with substantial revenue share from the proceeds of those ads."
So what does Wales think about Knol's business model, "It's competitive and that's very different from the collaborative Wiki model." So is Knoll more about rivalry and less about collaboration like the Wikipedia?
Google's blog informs that Knoll for now can only be used by invitation. Once the testing phase is concluded the participation would be free. Next they address the question about the rankings of the knols "Our job in Search Quality will be to rank the knols appropriately when they appear in Google search results. We are quite experienced with ranking web pages, and we feel confident that we will be up to the challenge."
It's true that Google does have experience with search, but in the face-off between them and Wikipedia, is there a possibility that rankings of Knol and Wikipedia pages get affected?
When Wales was asked, whether he'd use Knoll as an information source, his enthusiastic reply was "Oh sure, if it's good, I like stuff that's good."
Jimmy Wales quotes from Channel Web Network, Times Online