Google plans to gain greater ground in the Chinese search market by providing song downloads via the Web in China. It has recently held talks with Universal Music Group, Davena Mok, a Universal Music spokeswoman in Hong Kong has confirmed the discussions, reports Bloomberg.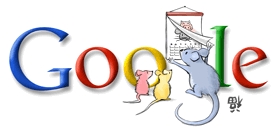 It has been about two years since the company landed in the land of the dragons. At present it faces stiff competition from the Chinese search engine Baidu.com. The Chinese engine holds a leadership position with about 60 percent of the Chinese search market share, while Google's share of searches hovers around 26 percent. It's success in part has been attributed to free, unlicensed music downloads. If the figures of the International Federation of the Phonographic Industry are to be believed, about 99 percent of music in China violates copyright laws.
Google is in the final rounds of negotiations with an online Chinese music company to provide the service. They would provide free, licensed music downloads in the country. If all things go ahead as expected then this service should start in the a couple of weeks, and would feature tunes from three global music companies and several smaller players.
Google's eying China's huge number of Web users as the target market. According to the China Network Information Center at the end of 2007, the country had 210 million Web users, the figures come second only to the U.S. Moreover, the figures are expected to be in favor of China this year.
Now, that Baidu has been alerted about the scare of Goliath Google eating into its share, Baidu can be expected to give a real tough challenge to Google.