According to a recent update, more control has been given in the Googlebot's crawl rate setting in the Webmaster Tools to enable all the webmasters to specify their problems in a better way! This would further enable the team of Webmasters Tools to go for a perfect elaboration of the matter in precise.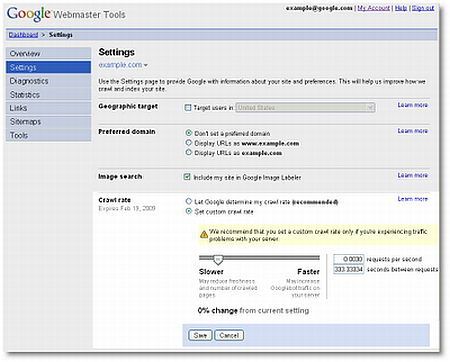 "Googlebot employs sophisticated algorithms that determine how much to crawl each site it visits. For a vast majority of sites, it's probably best to choose the "Let Google determine my crawl rate" option, which is the default. However, if you're an advanced user or if you're facing bandwidth issues with your server, you can customize your crawl rate to the speed most optimal for your web server(s). The custom crawl rate option allows you to provide Googlebot insight to the maximum number of requests per second and the number of seconds between requests that you feel are best for your environment.
Googlebot determines the range of crawl rate values you'll have available in Webmaster Tools. This is based on our understanding of your server's capabilities. This range may vary from one site to another and across time based on several factors. Setting the crawl rate to a lower-than-default value may affect the coverage and freshness of your site in Google's search results. However, setting it to higher value than the default won't improve your coverage or ranking. If you do set a custom crawl rate, the new rate will be in effect for 90 days after which it resets to Google's recommended value." – Google
Did you enjoy this article?
Get FREE Updates
Get SEO, Social media and digital marketing updates straight to your inbox.