Google AdWords recently unveiled two new templates to easily create coupons for online advertisements. The templates will allow users to create attractive ad copies, customized color schemes and coupon codes. Each template has a prominent slot for displaying a price or a discount as well as extra space for coupon codes.
Here a screen capture of the new template: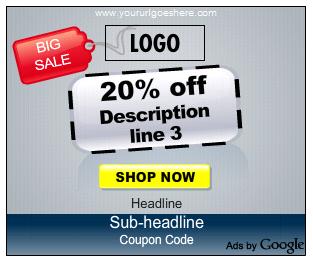 Users need to log into their AdWords account and select the "Display ad builder" option to access these new templates. To find the coupon template just choose the "Retail" category from any ad group.
You can easily edit your ads with any of these templates. However, it may take 2-4 business days to take effect because they need to be reviewed by an AdWords specialist.