About a year ago, del.icio.us, one of the most prominent social bookmarking websites was planned to be given a new identity and a facelift. However, it seems that instead of getting re-branded, this widely used website only got a facelift, but with added features. According to Yahoo! Search Blog, del.icio.us has now made a comeback with a name change that has now become 'Delicious'. Also, under Yahoo's expert tutelage, Delicious has managed to grow their registered user base from a measly 300,000 to about 5 million in just a span of 2 years.
The revamped website is now known simply as 'Delicious', and has even more robust and enhanced performance and search capabilities. The new 'Delicious' also comes with an all new interactive user interface.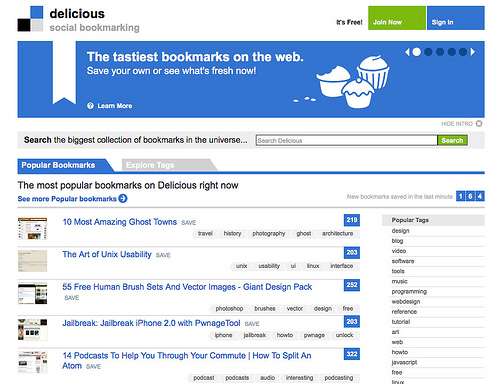 The Delicious team at the Delicious Blog, has given more insight into the new Delicious. According to the Delicious team, "It has taken us a while to get here, and we really appreciate all the patience and support you've shown us. Now that our new platform is in place we expect to release new features more quickly."
Here are some of the changes that the Delicious has brought along with it:
Speed: The new Delicious platform will enable the service to be more "reliable and responsive" with the growth of online traffic.
Search: Delicious has made some major changes to their search engine algorithms, thus making it faster and more powerful. According to Delicious, "The new search engine is also smarter, and more social: you can search within one of your tags, another public user's bookmarks, or your social network."
Design: The design of a website is one of the most crucial elements of a website. Keeping that in mind, Delicious has also updated its site designs, along with an enhanced user interface. It has also incorporated several other features that had been in demand from the users. These features include, selectable detail levels and alphabetical sorting of bookmarks. Delicious further stated that, "Our goal has been to keep the new design similar in spirit to the old one, so all of you veterans should be able to jump in without any confusion. At the same time, we're hoping that newcomers to Delicious will find it easier to learn."
It does some that Delicious has indeed done its homework and only then came out with the all new website. Let's just hope that it fairs better than their previous attempt and make afresh new impact in the field of social bookmarking.