In a recent announcement made by Google AdWords API Blog, two vital parameters have been introduced in the ad copy for the advertisers using the v2009 API . The parameters allow the advertisers to include numerical digits stating the prices, quantities, discount rates and much more.
Take, for example, that you wish to attract more number of users to your website, then all you have get to do is promote the product by specifying its starting price in the ad. You can also mention the number of products left in the current stock that you have to make it attractive. The new parameters makes things more easier for you as it also keeps you updated about the responses of users and the amount of stock left.
In that case, your ad will appear like this:

You will have to take care of the fact that with the help of the v2009 API's AdParamService, the default amount for param1 and param2 is to be set at the keyword level. You can yourself change or modify the amount later on of the amount and availability of the current stock.
The user who would be searching for the same keyword would automatically get to see the subsequent ad: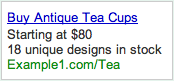 The newly added feature includes:
The updates for the ad parameters would be carried out using AdWords APL Updates as for the time being, AdWords Editor or AdWords interface would not be able to support the format.
A maximum of two parameters can be mentioned
The parameters should include a numeric value of the dynamic parameter and a non-numeric value of the default parameter. You can also include the currency symbols in the ad.
The ads promoted by you, need to abide by the AdWords Advertising Policies.