The launch of Google Instant is said to bring about some change in search queries data. This is because, when a keyword is typed on Google Instant, it keeps displaying search results until the user stops typing. It dynamically updates to display search results according to the terms typed by the user. This means that people possibly will see or visit a website at a much faster rate, most likely without clicking or hitting the "enter" button. Also, long-tailed keywords now, are more likely to increase conversion rates. This is due to the fact that, a user who would type a long-tailed keyword, is possibly looking for very specific information. In this situations, Google Instant acts as a guide and navigates the user to the desired information.
Google's however maintains that even though their presentation of search results might get different, websites still need to have persuasive and powerful content on the website pages, so as to provide a great user experience. Google added that with Google Instant, there is certainty of increased impressions because the website may get displayed while a search query is being typed.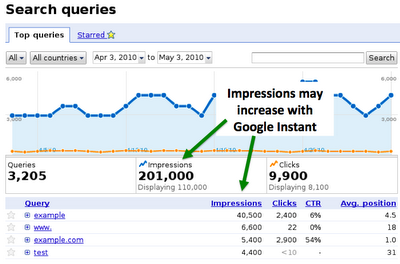 Google Instant will count ad impressions when:
The website is shown in search results as against user's complete query, which the user does either by selecting a search result from autocomplete or by clicking on it.
A user starts to type a keyword in the Google search box and clicks on a link on the displayed page, like a search result, ad, or a related search.
The result get displayed for minimum 3 seconds, in case the user stops typing.
How it Works:
A website may contain lots of impression for "mortgage cars" and "mortgage cars in New York". As Google Instant fetches results faster as the user types, the website gets displayed even with terms like "mor". If the user types the partial query "mor" and goes on to click on any result on the page for "mortgage cars", it would automatically be counted as an impression for the website. That particular impression appears in Webmaster Tools for the search query "mortgage cars". The term "mortgage cars" also gets included in the HTTP referrer, when a user clicks to visit the website. It is possible that the website will still get impressions for queries such as "mortgage cars in New York", but as Google Instant helps the user to find results quickly, the site might benefit by getting impressions with shorter terms as well.
Google Instant will be quite beneficial for most websites, specially for those who have less visitors and even less conversions.