You can now easily explore the albums and songs of your favorite artist in Yahoo! Video Search. It has been seen that many visitors come to Yahoo! Video Search digging for the work of their favorite music artists. Therefore, the Yahoo! Team decided to introduce "Web of Things", the feature that will let you explore your favorite music artists easily.
Supposedly, if you are looking for music videos from U2, the new refiner feature present on the left rail will show the popular albums and top songs like "Beautiful Day".
Yahoo! Video Search – Music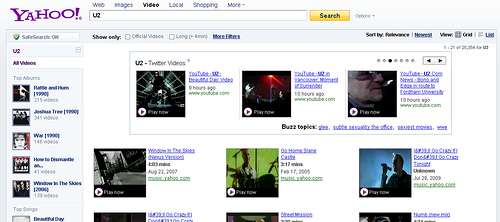 You just have to click on the song or album and Yahoo! Video Search will show the videos for the song or album on an overlay page.
Yahoo! Video Search Music Refiner

If you want to watch popular song videos without losing the context of original query, this feature is for you.
Yahoo! Team tapped into the web of Things for giving a more personal and relevant search experience in video search music refiner. The video search music refiner is the next after image search travel refiner and celebrity refiner.