Yahoo! has just launched a geo-targeting system that would enable the search ad campaign managers to fine tune their target audience for a particular ad campaign, keeping specific locations in mind!
This unique feature would utilize different search queries of the users, their IP addresses and other factors that predicts their location as well as what kind of ad will Yahoo-Search serve them!
Users will get to witness this feature when they will login to their Yahoo Ad Campaign account. After login-in, make sure that you select the "geo-targeting" feature tab, that would further allow you to select areas like:
Entire market
Country
State/Province
DMA, City or ZIP Code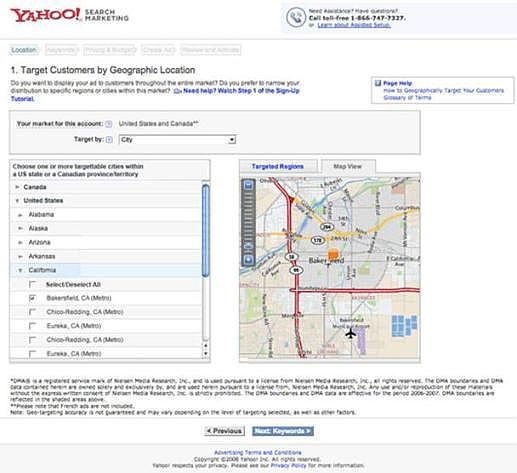 As a result, advertisers would get relevant clicks for their ads. This will automatically result in higher sales, as these ad campaigns would get the assurance of reaching their intended audiences!
This new feature is currently available in Beta mode, so there are chances that some users might find minute inconsistencies while indulging in the selection of ZIP codes or other specifications!
According to the Yahoo! Search Marketing Blog, "Geo-targeting is a clever little feature that can analyze a user's search query, their Internet Protocol (IP) address and other user information to determine where they are and what ads to serve to them. For example, if you select Portland as a geo-targeted region for the sale of your product, searchers with an IP address in Portland will be served your ad. If you're a Portland business, you're likely to get more relevant clicks that can lead to more sales. Our new updates give you the chance for even more relevant clicks."
Now Geo Target Users at Country, City or ZIP code level with Yahoo Search Marketing!

,