Recently, adCenter Analytics had announced an upgrade to adCenter Analytic. For those of you who still are a little clueless, adCenter Analytics is a free web analytics tool that helps you easily understand web site user engagement and online marketing campaign performance. A user can then track the audience behaviour from click to conversion, segment data by age and gender or simply run a report to see how many visitors have accessed the site, where they came from and what content they looked at.

So those who would like to get started with adCenter Analytics, here are few simple steps offered by adCenter blog on how to get started:
Step 1 – Register
Being in Beta at present, the adCenter Analytics can be accessed by invitation only. So for you to be considered for participation, you will have to complete the invitation request.
Step 2 – Sign Up
After the invitation request gets processed, the adCenter Analytics will send an e-mail with an invite code. Then you will have to follow the prompts in the e-mail, and sign into adCenter. Once you have signed in, you will be taken to the Analytics welcome page and there you will be asked to enter the invite code. Enter the code and click "Next."
Step 3 – Create a Profile
Next you will have to click on the Analytics tab at the top of the page and then there you will be shown two icons: Profiles & Users

Now for adding the URL of the site you want to track with adCenter analytics, you will have to click on the Profiles icon. You can add a Profile, by clicking on the Add New Profile button. Once you are on the profile name box, you can type a display name to identify the web site or blog you are tracking and select a time zone.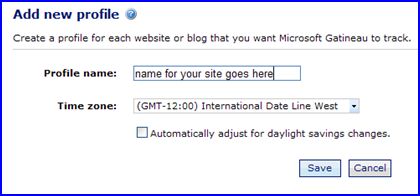 Step 4 – Adding the Tracking Code to your web site
Finally to get started, you will have to add a small piece of Javascript code to every page of your website that you want to track. Therefore, you prompted to copy and paste the code snippet just before the tag in your site's HTML.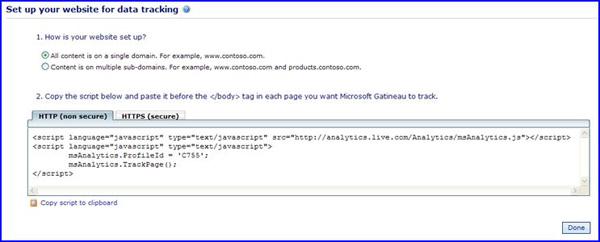 The adCenter Analytics can be relied upon as means to help you understand your web site users' behavior quickly. Being a next-generation web analytics system, you are easily given access to data information like Traffic & History, Visitor Loyalty, Pages & Content and other such information.