Google Webmaster Tools article explains how you can make your site more Google-friendly.
You can "Get Google's view of your website, and diagnose potential problems.
See how Google crawls and indexes your site and learn about specific problems we're having accessing it."
You can assess the performance of your site "Learn which queries drive traffic to your site, and see exactly how users arrive there."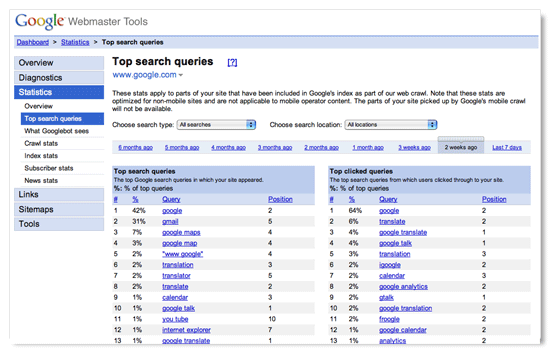 Further you can share information with Google to help them crawl your site better. It says "Tell us about your pages: which ones are most important to you and how often they change. You can also let us know how you would like the URLs we index to appear."
The best part is that its free, to use it "Simply log in with your Google Account and add your site URL to get started. It's an easy and free way to have a more interactive experience with Google."
The Google Webmaster Central Blog further elaborates on the releases "we have two new features: Content analysis and Sitemap details. We hope these features help you to build a site you could compare to a fine wine — getting better and better over time."
Content analysis "…contains feedback about issues that may impact the user experience or that may make it difficult for Google to crawl and index pages on your site. By reviewing the areas we've highlighted, you can help eliminate potential issues that could affect your site's ability to be crawled and indexed. This results in better indexing of your site by Google and other search engines."
The Content analysis summary page has three main categories, they are Title tag issues, Meta description issues, Non-indexable content issues. You simply need to click on these to get details.

If you'd select the "Duplicate title tags" you'd get a list of "repeated page titles along with a count of how many pages contain that title." As of now they "present up to thirty duplicated page titles on the details page. If the duplicate title issues shown are corrected, we'll update the list to reflect any other pages that share duplicate titles the next time your website is crawled."
"Long title tags" and "Short title tags" in the Title tag issues category are meant to "identify title tags that are way too short (for example "IT" isn't generally a good title tag) or way too long (title tag was never intended to mean <insert epic novel here>)." Additionally there's an algorithm to identify potentially problematic meta description tags. These pointers can help your site display better titles and snippets in search results, which is likely to increase visitor traffic, however they won't help your rankings directly.
For the "Non-indexable content issues" they say "we give you a heads-up of areas that aren't as friendly to our more text-based crawler. And be sure to check out our posts on Flash and images to learn how to make these items more search-engine friendly."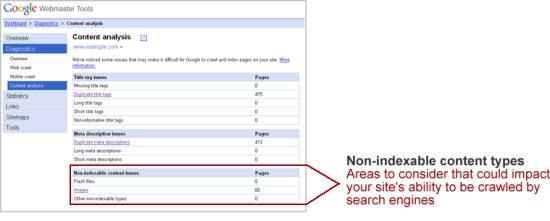 About the Sitemap details page's functionality they say "If you've submitted a Sitemap, you'll be happy when you see the additional information in Webmaster Tools revealing how your Sitemap was processed."
This information can be found on the Sitemap Details page in addition to the information that was previously provided for each of the Sitemaps. The information would show the number of the pages from your Sitemap that have been indexed. A word of caution though "Keep in mind the number of pages indexed from your Sitemap may not be 100% accurate because the indexed number is updated periodically, but it's more accurate than running a "site:example.com" query on Google."
On the Sitemap Details page you'd also get a list of "any errors or warnings that were encountered when specific pages from your Sitemap were crawled." It'll save time that was earlier spent on crafting custom Google queries to determine how many pages from your Sitemap were indexed.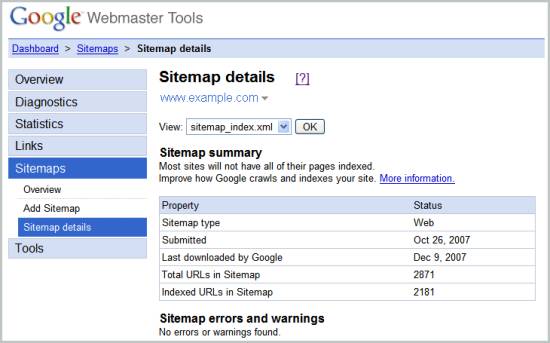 Guess what else do they have to offer? "Webmaster Tools now available in Czech & Hungarian."