Back in the year 2006, we reported that AdSense Font Size changed with Firefox Browser Text Size!
Now the Inside AdSense Blog is reporting that AdSense is letting publishers set their preferred fonts in the AdSense Editor! That means publishers have now more freedom to let loose their creativity to full extent!
"However, you can also select custom font faces for specific ad units that you've created with the Manage Ads feature. When creating new ad units, you'll be prompted to select between the default 'Standard AdSense font family', your new account-wide font face (if you've selected one), or another font face. You can also change the appearance of existing ad units, by visiting the Manage Ads page of your account and updating your font choices for specific ad units. Once you've changed the font face of an ad unit away from the default, those selections will be maintained even if you change your account-wide settings later."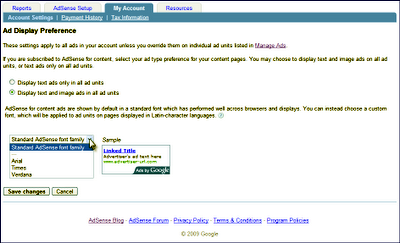 So just enjoy the new fonts!
Did you enjoy this article?
Get FREE Updates
Get SEO, Social media and digital marketing updates straight to your inbox.