As of today Google AdSense has been equipped with Link Units in the AdSense interface. Link Units are standard text advertisements. These units display a list of topics relevant to the user's web page and when clicked, directs the user to the page of relevant advertisements. According to Google AdSense Blog, the link unit specific reports give detailed information to the advertiser about his link units. These parameters include the per-link CTR (Click-Through Rate) and the number of click throughs to the link units.
An AdSense user can view the link unit reports by visiting the 'Advanced Reports Page' and selecting AdSense for content. The user will be presented with a new option to customize his reports called 'Choose Units'.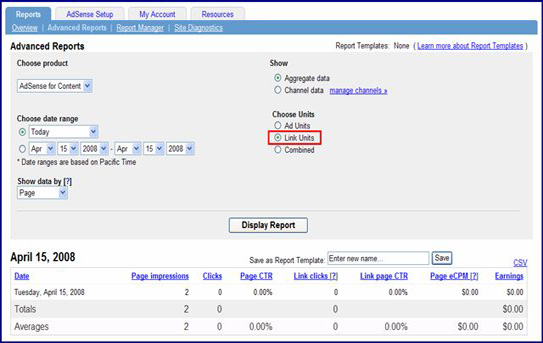 The report data displayed is only available from May 2007, due to some technical difficulties at Google which are in the process of being resolved. The user is permitted to use three links units on any given page. This is in addition to the three regular advertisement units.