Google will drop the "Advertise on this site" link feature displayed next to AdSense ads. With the help of this link, AdWords advertisers were able to directly target a specific site.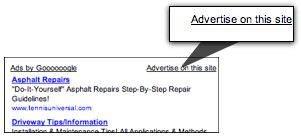 As put by Google, the reason for dropping this feature is "not been performing as well as we had hoped, and in the coming weeks the feature will be retired." Earlier, Google launched this feature back in September 2005 and many advertisers and publishers had high hopes for it. At that time Dave Taylor in a blog post, said "I think it's quite significant, actually, for two reasons: one, it demonstrates that the Google AdWords system is being extended to allow advertisers to bid on specific Web sites."
However, it was not able to meet the expectations Google set out for this program. Google said, "As the AdSense product evolves, we occasionally re-evaluate aspects of the product to make sure they are performing well for our publishers and meeting our goals. We found that the Onsite Advertiser Sign-up feature was under-performing, and so we have made the decision to focus our efforts on features that we believe will drive the best results for publishers."
Now any direct clicks on those "Advertise on this site" link will be directed to the AdWords sign-up page.