In an effort to catch up with Yahoo! and Microsoft adCenter, Google has launched its very own Demographic Targeting (Bidding) open for all AdWords advertisers. Advertisers on AdWords can target lifestyle variables such as age and gender on the Google Contextual Network with the help of Demographic Bidding. Google requires this service to properly coin their social networking partnerships with websites like MySpace and Friendster.
Through this feature, a user's web behavioral data, such as the the web sites he has visited or the terms he has used in search engines is collected and analyzed. This further helps the advertisers understand an individual's online patterns and are able to display the advertisements that suit the user's needs.
In fact, Google came out with the Demographic Bidding for three main reasons:
1.With the advent of social ad targeting in Facebook, Google took a back seat and had to come up with a reliable yet cost effective solution to gain back its pole position.
2.For years now, Yahoo! and AOL have been working with Demographic Targeting and have mastered online profiling. Whereas, Google was still using the contextual and search targeting which later proved to be obsolete and the substitute to the stone-age searching turned out to be online profiling.
3.The small and medium entrepreneurs will be able to understand online behavioral patterns of Google users across the internet. Furthermore, this will enable these advertisers to fathom and understand the this form of advertising and prepare themselves for further updates or upgrades to come.
To make sense of the Demographic Targeting, here's how this technology works:
Go to a campaign and click "edit campaign settings." Then at the bottom right of that screen you should be able to see this option: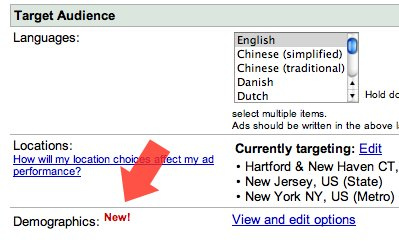 Click on "view and edit options" by the demographic bidding section and you will be taken to a page to select how you want to bid higher for certain gender or ages, or exclude certain gender or ages from showing your ads.
The top message reads:
["This summary shows ad performance for the last seven days on sites which offer demographic information. Those sites provided 0.0% of this campaign's total ad impressions during that time. For statistics on all ad impressions for this campaign, see your campaign summary page.
Click Edit in any row to adjust your bid for that demographic group, or to hide your ad from that group."]
Following that, a couple of options will be displayed:
Gender:


Age: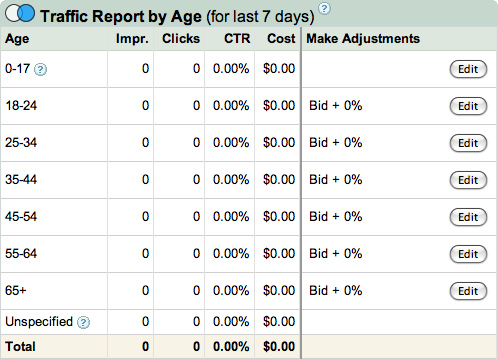 Click on the 'Edit' button: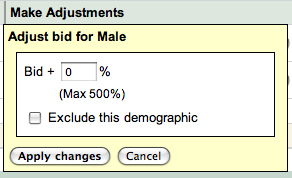 Check for the Resulting Combos on the right side as the user adjusts the bids or if demographics are excluded:


You can also check AdWords Help Center for more details on demographic bidding

Did you enjoy this article?
Get FREE Updates
Get SEO, Social media and digital marketing updates straight to your inbox.