Google Analytics has now been made even more global. The Analytics blog announced the availability of Google Analytics in six more languages: Slovak, Bulgarian, Greek, Catalan, Lithuanian and Vietnamese. This has made it accessible in a total of 31 languages. The users can see the new languages updated in the language menu, on the Google Analytics login page.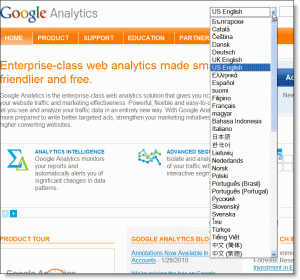 It's a cross-functional effort by the Google to localize its Analytics experience in these added languages. Google already has now more than 150 Google Analytics Authorized Consultants (GAAC) from over 35 countries and the major regions of Asia Pacific, US, Europe, Canada, Latin America, Middle East and Africa. This new addition is sure to add to the growth.
Did you enjoy this article?
Get FREE Updates
Get SEO, Social media and digital marketing updates straight to your inbox.