The news is out that Google Analytics has added AdSense for Feeds and Google Feedburner data for all the items it analyzes & monitors. If you are also using one of the two tools for feed advertising, you will now be able to see the performance of your ad implementation in terms of item clicks. Apart from this, Google Analytics will also give additional information to make you understand which Feedburner is getting more traffic to your site.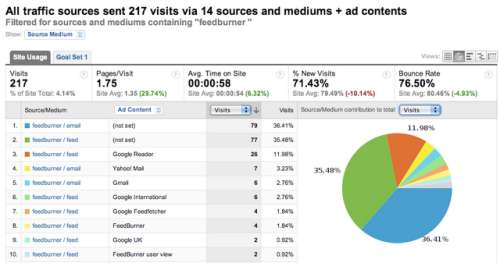 In case you are using AdSense for feeds of Google Feedburner, you will be able to classify the links by tagging source like Feedburner because of the new feature. Feedburner acts as a channel for sending the feeds in form of "feed" or "email".
The content present in the feed is considered as the actual endpoint application through which users will view the feed contents. This can be done through Google Reader, Yahoo mail and other applications. The data can be seen on Google Analytics account under the All Traffic Sources section.
Your item URLS will get automatically tagged with Google Analytics parameters the moment you will enable the item click tracking on Google Analytics account. So, if you are amongst those who are yet to sign up for Google Analytics, this is the best time for you as RSS feed advertising will make things more exciting.