Google has announced a new AdSense mobile product named AdSense for mobile search. It allows the carriers and mobile publishers to simply embed a Google search box on their mobile sites in an easier manner!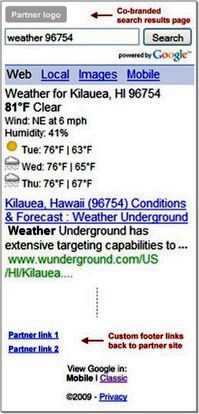 More from Google on the Official Google Mobile Blog:
"Today, we're happy to announce a new AdSense product for both mobile network operators and mobile website owners across the globe. AdSense for mobile search is a quick and easy way for carriers and mobile publishers to embed a Google search box on their mobile portals and web sites. Whether they are day-dreaming of Hawaii or trying to find the perfect Valentine's day gift, mobile phone users will get instant access to Google search including comprehensive web search, local, image, and news results — all formatted for their phones. Mobile operators and website owners share in the ad revenue generated by searches originating from their sites.
AdSense for mobile search is a Google-hosted solution, which means users will experience the same speed, reliability, and innovation that they've come to expect from Google. And even though the results pages are served by Google, the pages can be cobranded with publishers' logos and linked back to their sites. See the mock-up on the left."
Currently it is a private beta version, so the users need to fill this form. And if anyone of you is planning to come for the MWC that is going to be held at Barcelona, then ensure that you fill this form by February 13!
Did you enjoy this article?
Get FREE Updates
Get SEO, Social media and digital marketing updates straight to your inbox.