Yesterday, Google announced two new features for result pages. The first feature provides an expanded list of related searches and the second offers longer snippets. Both the features are believed to affect search behavior quite significantly.
To understand the concepts and associations related to a query better Google has deployed a 'new technology'. This technology will offer users a greater number of related searches (found generally at the bottom and sometimes at the top, of the search results page).
" For example, if you search for [principles of physics], our algorithms understand that "angular momentum," "special relativity," "big bang" and "quantum mechanic" are related terms that could help you find what you need. Here's an example (click on the images in the post to view them larger):"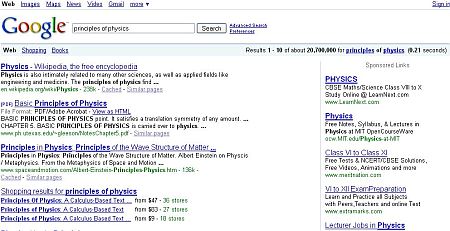 These improvement are not just limited to English-based searches, but also searches in other languages/countries. Users can view these improvements in almost 37 languages all around the world.
In the past, each result on Google used to begin with a dark blue title and followed by a few lines, which together used to give users an idea about the page. However, longer snippets, the new improvement by Google will highlight the words of your query in bold. The number of lines in the snippets has also been increased to display even more related words.
According to one of the bloggers, longer snippets will have the following two main effects:
"The description tag becomes 'less important'. Reading between the lines this would suggest that the snippet is likely to be taken from the body of the page, rather than the site description.
Site structure and content becomes key. Given that Google is using the main body for retrieving this context—allowing Google to find the content becomes more and more important. Providing the essential signals to Google thus is essential".
Even though, the new improvement (longer snippets) has affected a wide range of searches it doesn't appear in all the results. Have a look at the image below to understand better.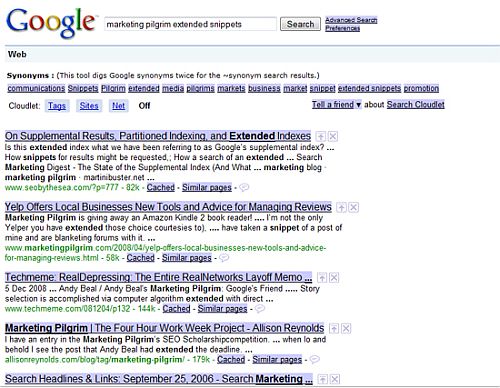 It will surely be interesting to see the change in the search behavior due to these improvements.