Recently, Googlers received a claim on an email thread, that Google had 'censored' images or web pages and removed them from their site without saying a word to anyone. This time the thread referred to the hue and cry raised on some sites in the Middle East and beyond, which claimed that Google under pressure from the Israeli government had removed the Egyptian striker Mohammad Aboutrika's goal celebration during Egypt's African Cup of Nations match against Sudan. Apparently, the celebration entailed Aboutrika lifting his t-shirt, and the t-shirt underneath had 'Sympathize with Gaza' printed on it.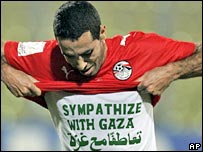 The claim in addition to being denied outrightly, is followed by an explanation about how search engines work to bring images or other content to surface on the Internet. "No-one from any government has contacted us about this image, and we have no reason to remove it," said the The Google EMEA Product Team. FYI, EMEA stands for "Europe, Middle East, and Africa.
While the team acknowledges that the image was difficult to find on images.google.com for the first few days after the match, it certainly wasn't intentional and that the image is available on YouTube and also on Google News.
The delay in the image showing up on Google Images was, because it can take a few days between when an image appears and when its crawled by the Googlebot. Moreover, Google doesn't crawl every single image or document across the entire web, and at times it takes time to discover a document. Not just Google but all the search engines work this way.
Well, now that things have been clarified 'all is well that ends well,' but the issue did create quite a furore. By the way Google News made local news easier to access, see: Now, Local News On Google News!