Google Blogscoped informs the all the Google Feedburner feeds users as well as prospective users can now include AdSense ads in the their Feedburner feeds from their account.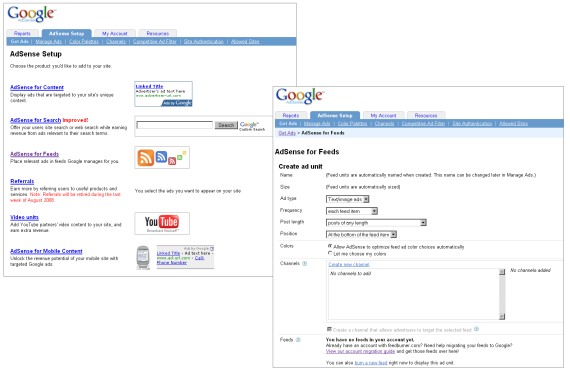 The Google Operating System's unofficial news stated, "The new AdSense for Feeds option lets you create a new ad unit that has a format automatically selectedfrom 468×60 and 300×250. "Generally, the 300×250 size will display when there's more content and when your feed is being viewed in a device with a larger display," explains Google. You can choose if you want image ads, the ad frequency, the position (top or bottom of the post), the colors and a channel that tracks the ad performance".
After having tested this service already with a handful of publishers, it is now being available to more. Stressing upon the multiplying features of feeds, Google Blogscoped remarked, "As feeds grow in features, the lines between normal HTML and the feed format may become more blurred… and the original reason why people switched to feeds – easy uncluttered updates, and perhaps ad-free content, among other reasons – may become less of a motivator one day".