In an effort to bring history to life, Google via the Official Google Blog has announced the launch the of a new service, called Google News Archive, through which Google aims at collecting news papers, articles and images of some of the most important turning points in our history as covered by the media.
According to Google, "This effort expands on the contributions of others who've already begun digitizing historical newspapers. In 2006, we started working with publications like the New York Times and the Washington Post to index existing digital archives and make them searchable via the Google News Archive. Now, this effort will enable us to help you find an even greater range of material from newspapers large and small, in conjunction with partners such as ProQuest and Heritage, who've joined in this initiative. One of our partners, the Quebec Chronicle-Telegraph, is actually the oldest newspaper in North America—history buffs, take note: it has been publishing continuously for more than 244 years."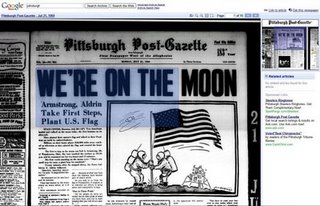 Users will now be able to search through Google News Archive, and locate and read the most important and memorable moments of history as they were depicted at the time. As per the post, "You'll be able to explore this historical treasure trove by searching the Google News Archive or by using the timeline feature after searching Google News. Not every search will trigger this new content, but you can start by trying queries like [Nixon space shuttle] or [Titanic located]. Stories we've scanned under this initiative will appear alongside already-digitized material from publications like the New York Times as well as from archive aggregators, and are marked "Google News Archive." Over time, as we scan more articles and our index grows, we'll also start blending these archives into our main search results so that when you search Google.com, you'll be searching the full text of these newspapers as well."
Did you enjoy this article?
Get FREE Updates
Get SEO, Social media and digital marketing updates straight to your inbox.