Google Domestic Trends has finally been launched on Google Finance in order to track certain economic sectors. These changes in the search volume on Google.com may provide people with useful economic insight on various sectors of the economy.
As per the recent Google blog post 23 indexes have been created that track some major economic sectors such as auto, retail and unemployment.This is an interesting fact that Google luxuries index can track queries related to jewelry, rings, diamond, ring, jewelers, tiffany and more.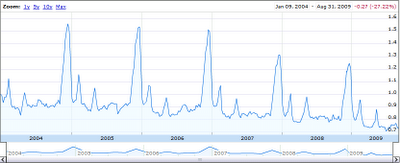 Auto-buyers index on the other hand is an interesting feature of Google that lets you compare actual stocks and market indexes to Google Trends. The data for these indexes can be easily downloaded for use with your own models.

For more details, refer to the Google Finance Blog. Also check out the Google Research Blog for information on Hal's research on Google Trends data to determine various economic conditions.