After the launch of Google Earth's sky feature in August last year, see: Get Ready To Explore Space With Google Earth! made us experience the space in a totally new way. The release of the next generation of Sky in Google Earth, which includes several new features, would provide scientists, students and amateur stargazers with new tools to explore the millions of stars and galaxies visible in the heavens.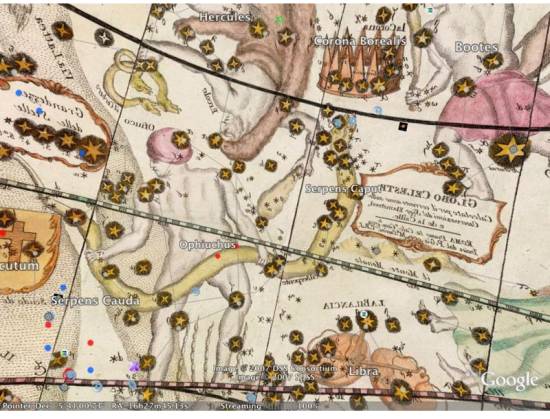 Picture Credits: Google Inc
The new features entail:
Earth & Sky Podcasts: Through these you can get podcasts about stars, galaxies, planets and events coming up in the sky from the NPR program Earth and Sky.
Current Sky Events: This feature provides timely updates on recent cosmological events from VOEventNet.
Featured Observatories: This highly fascinating feature shows images from NASA observatory satellites including x-ray images from NASA's Chandra satellite; infrared images by the Spitzer Space Telescope and the Infrared Astronomical Satellite (IRAS); ultraviolet images by the GALEX Satellite; and a microwave map of the sky by the Wilkinson Microwave Anistropy Probe (WMAP).
Historical Sky Maps: Let's have you travel back in time and show you David Rumsey's historical maps of the sky dated back to 1792 and illustrate how conceptions of the sky have changed over time. You can even gaze at the beautiful Constellations Art layer based on engravings by astronomer Johannes Hevelius from 1690 Grand tour of the sky: the best of Sky imagery in a tour that takes the user through 100 of our favorite spots in the Sky.
Sky community: Birds of same feather can flock together here, with the best content published by the Sky community on the Sky discussion forums.
Additionally, there is some juice for developers too. The Sky API will enable developers to develop their own sky mashups using the extensive sky imagery.
Get on board, the starship's all set to take off!