In one of our earlier posts we discussed about the ongoing tests on one-line sitelinks. Google finally has launched an expansion of sitelinks. Until now, only first search result showed sitelinks and so at most one site could have sitelinks per query. However, with the expansion of sitelinks, up to four sitelinks will be displayed right above the page URL.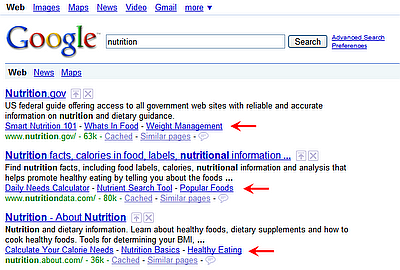 We all know that sitelinks are very important since they enable users to access directly to important parts of a site. These links also have the additional advantage of displaying an overview of a website's content to users. Sitelinks are also quite important for webmasters, since it helps to reveal certain parts of the site that users may not know about.
Now, a single row of links will appear for results that didn't show sitelinks before, even for results that aren't in the first position. Although, these sitelinks have the same benefits as the full two-column sitelinks, but on a smaller scale. These one-line sitelinks will show some relevant sub-pages and give a basic idea about the site. All these sitelinks will be generated algorithmically and on the expected benefits to users.
With the help of this new feature, webmasters will be able to show sitelinks for a number of search queries that weren't possible earlier. The feature is expected to bring in more traffic and increase site visibility.
Through Webmaster Tools you can block a particular sitelink from appearing. Improvements are still going on for a better Webmaster Tools experience. At present, one can only block sitelinks on the home page, but Google is still expanding this capability to other pages.