In the past few days, you may have noticed Google search results with little blue links (ie. One Line SiteLinks) between the page description and the target URL in Google search.
Here's a screen shot of the One Line Site Links: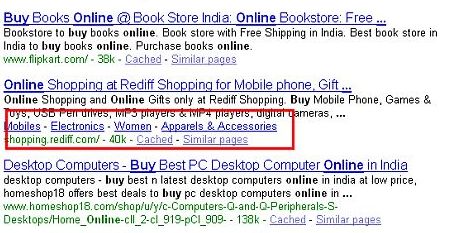 This blue link points directly to the internal pages of the sites displaying relevant results to the search queries. The little blue link is quite similar to the Yahoo extra link available for Yahoo feed advertisers.
It is believed that these links are part of the Google Sitelinks program to make links more streamlined and pleasing to the end users. Most webmasters think that sites which have these internal Google links will have a competitive advantage than other sites in Google search.
Although, not many are sure whether these little Google Blue Sitelinks will help in organic search traffic, I guess only time will tell.