Google has stood by its experimentative reputation and has tried to innovate further with its 'search result' features, to impart Google users a more enhanced search experience. Google Blogoscoped has revealed that Google is presently examining a prototype search result that displays a "Search options " link on the Google result bar.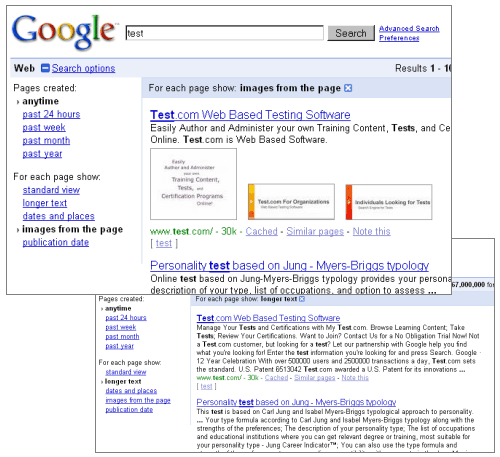 Blogoscoped, elaborated upon the functionalities of this expanded search option, stating, "When you click it, a navigation bar expands to the left side, promising to limit results to pages created "anytime", "past 24 hours", "past week" and so on. There are also a couple of alternative result views to enable; "longer text", "dates and places", "images from the page", and "publication date". "Longer text" shows snippets beyond what Google normally displays in results. "Images from the page" includes little thumbnails."
You can visit google.com and paste this:
(javascript:document.cookie="PREF=ID=dcde1f4aabc11834:LD=en:CR=2:
TM=1220381447:LM=1220382001:GM=1:S=DVWziFe-bPr1jHdk;path=/;domain=.google.com" ) on its address bar if you wish to know what this great experiment entails for you. Enter at your risk!
Did you enjoy this article?
Get FREE Updates
Get SEO, Social media and digital marketing updates straight to your inbox.