If you have read the online news, you might have experienced that browsing is really slow. A media-rich page loads dozens of files and thus it takes time to load over the broadband, which is quite frustrating. So, what we need is the fast browsing that allows access content in a quick span of time, without long wait for things to load.
In order to solve the above problem, Google has come up with Google Fast Flip on their Google Labs. Fast Flip will give a new kind of news reading experience. It will allow the users to browse sequentially through bundles of recent news, headlines and popular topics and feeds from individual top publishers in faster way. This is a good way to get fast browsing, natural magazine-style navigation, recommendations from friends and other members and a selection of content that is serendipitous and personalized.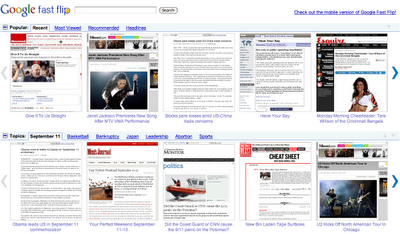 To build Fast Flip, Google has partnered with various leading publishers such as the New York Times, the Atlantic, the Washington Post, Salon, Fast Company, ProPublica and Newsweek. These partners will share the revenue that will come from contextually relevant ads.
Fast Flip will definitely relieve people who face problems while accessing content. It will encourage the readers to read more news in a quick span of time. Quite interestingly, Google has made mobile version of Fast Flip with tactile page flipping for Android-powered devices and the iPhone, so that the readers can browse the news on the move.